In the previous article, you read about Google Analytics and how to get Google analytics certificate. And now we are providing you complete information about SEO (Search Engine Optimization).  How to become a professional SEO expert. It is the backbone of complete Digital Marketing. In which, we will cover some important points which are following:
Keyword Research
Site Audit
On Page Optimization
Off Page Optimization
Social Media Optimization
After learning these things you will be definitely prepared for working as a professional on SEO profile.
And this article will help you to do the complete SEO of your website without the help of anyone.
Do you know what is Google Analytics in Digital Marketing and How to become Certified Expert in? No, Don't worry, read this article "What is Google Analytics?".
So guys, let's start learning SEO in Digital Marketing to become an SEO expert.
What is Search Engine Optimization? Guide to become SEO Expert
Search Engine Optimization is the process of affecting the visibility of a web page or a website with the help of keywords or keyword phrases on SERP page.
It is basically used for promoting or you can say that increasing the ranking of a website by increasing traffic on a SERP (Search Engine Result Page) page with help of backlink creation.
In SEO we work on most famous or you can say that a website which has high DA (Domain Authority), PA (Page Authority) or Alexa Ranking.
We will explain DA, PA and Alexa Ranking after some time. But you have to wait for some time.
It has basically two types first one is On-page SEO and secondly is Off-page SEO.
On Page Search Engine Optimization
In On-page you will learn all online optimization techniques in which some techniques are:
Meta Title
Meta Description
Heading Optimization
Image Optimization
Sitemap (.xml or .html)
Robots.txt
URL Optimization
Content Optimization
Link Optimization (Inbound or Outbound)
Keyword Optimization (Focus and Other Keywords)
DA and PA Optimization
The website is same like as a constructive building, in which we focus on its inner part and outer part to design it perfectly.
You will focus on its inner part that means links, meta title, meta description, typography, etc and on outer part focus on its UI (User interface) and UX (User experience).
If we talk about overall then we will work on a website live to optimize or you can say that remove above these points or correct them.
Meta Title: In this phase, we focus on the title of any page which should be 55 to 70 Chars. In which, meta means this information is only for a search engine, not the user.
Meta description: same as above, the only difference is that in which length of description is 160 Chars max. and std. size is 150 Chars.
Heading Optimization: Heading should be from H1 to H6. Every page should have only one H1 tag and length of it is 15-65 Chars.
Image Optimization: In this section, we optimize Images that have alt tag/ title tag or not.
Sitemap: A mapping through our website to Search Engine that is called sitemap. It is basically of two types. One is .xml extension (For Search Engine Bot) and second is .html extension (For Users).
Robots.txt: At this point, a text file will create which uses for informing to the Search Engine Bot to read our site's pages forcefully or if you want to stop to read bots our pages.
URL Optimization: In this phase, you will focus on Url of a page which you are optimizing. That means, in the Url Focus keyword is compulsory to come for better optimization of a web page.
Content Optimization: In content optimization, we optimize content, its length, keyword density in it, and another kind of major points of content.
Link optimization: In link optimization, we optimize links which are present or not in a page or content of it. That means we check inbound or outbound linking in a website page.
Inbound link: A link to our website's page which is connected to the other page of our website. It is also called internal links.
Outbound Link: A link to our website's page which is connected to the other page of another website. That is called Outbound linking.
Keyword Optimization: In this optimization, our focus is on Keywords, mainly focus keyword or you can say that position of focus keyword in the web page.
DA and PA Optimization: In this, we optimize DA (Domain Authority) and PA (Page Authority) or you can say that check DA &PA or a website.
Domain Authority: Domain Authority is a score (100-point scale) developed by Moz that predicts how many wells a website will rank on a search engine platform.
Use Domain Authority when comparing one site to another or tracking the "strength" of your website over time to time.
We will calculate this scale matric by including all of our other link metrics like linking root domains, a number of total links, MozRank, MozTrust, etc. – into one single score.
Page Authority: It is a score (1-100point scale) developed by Moz Community who predicts how well a specific page will rank on search engines.
It is based on data from the Moz-scape web index which includes link counts, MozRank, MozTrust, and dozens of other factors.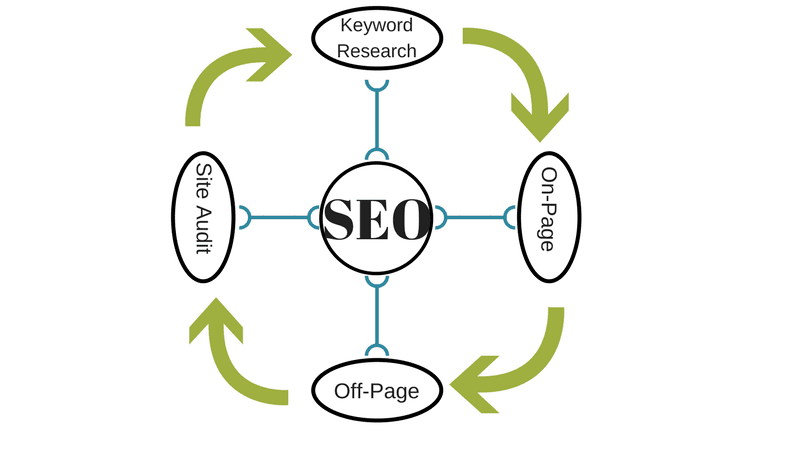 Off Page Search Engine Optimization
The off-page optimization that means link building for a website or a web page. In other language creating backlinks for a website or making the presence of it on SERP page.
There are lots of techniques in Off-page SEO which are following:
Directory Submission
Social Bookmarking
Profile Link Submission
Blog Commenting
Gust Posting
Article Submission
Document Sharing
Press Release Submission
Social Media Sharing
Image Sharing
Business Listing
Web 2.0
Q&A (Questions and Answers)
Forum Posting
These techniques will help you to grow your website traffic or you can say that boost your website ranking on SERP page.
Before doing all these things you will have to do keyword research and site audit.
Social Media Optimization
In Social Media Optimization, our focus is on posting or sharing our website pages or if you have blog website then it will be share and optimize it. That means How to attract audience via social media or How to create our presence on social media.
Some Social Media are:
Facebook
Twitter
Pinterest
Instagram
Google Plus
And so on. You can find other social media sites for sharing your site content for promoting your website.
Keyword Research In SEO
In Keyword research you have to find your website's related keywords on which you will work for increasing traffic or for ranking on SERP Page.
For keyword research, you can use some tools like:
Or you can find other tools for keyword research.
In keyword research you can decide keywords like:
Focus Keyword
Location-based Keywords
Long tail Keywords
LSI Keywords (Latent Semantic Indexing)
Multi-word Keywords
Single-word Keywords
Profitable Keywords (based on profit like discount, coupons,etc.)
Sessional Keywords (based on Sessions like Diwali, Dussehra, Holli)
After that, you have to do site audit that means calculate all information about your website weakness or problem.
Site Audit of A Website
In site audit, you will get complete information about your website's weakness and after that, you will make a plan for improving these weaknesses of your website by doing above these optimizations (On-page and Off-page).
You can use some tools like:
And so on.
After doing all these things you will become an SEO Expert (Search Engine Optimization) to increase the traffic or boost ranking of your website on SERP page.
You can track all activities, I mean to say that your website activity on Google Analytics which is free of cost to use. It will give you a complete profitable result about your website.
If you don't know about Google Analytics Just Click here for complete knowledge about Google Analytics.
If you want to know more about SEO, just comment below or want to read other interesting blogs or articles, please Click Here.